Why Choose Us?
★Fast& Professional Reply.
★Great Quality!! Quick Delivery Time!! Amazing After-sales Service!!
★Two Factories; Occupying Area 20000 Sq.m.; Technicist beyond 80.
★Welcome OEM& ODM.
★Export more than 60 countries, widely used in power stations, thermal power station, water works, water works, sewage disposal plants, iron and steel companies and other industries.
Application:
It is for use with the high temperature pipeline(not more than 950 degree) in metallurgy, mine, cement, petrochemical industry and power plant etc. As shutting off and regulating equipment. It is mainly used in exhaust smoke system of furnace and electric stove. And it is suitable for the gas-smoke recovery system.
Features:
This valve has welded structure with high quality carbon steel, stainless steel, heat-resisting steels , the valve heating part all through circulates the water to carry on the cooling, with the medium contact part material uses the stainless steel, the heat resistance corrosion and the high temperature performance is good, Cooling water circulation system design reasonable, no short circuit, dead end phenomenon, to ensure that the valve service life longer.
Structure diagram: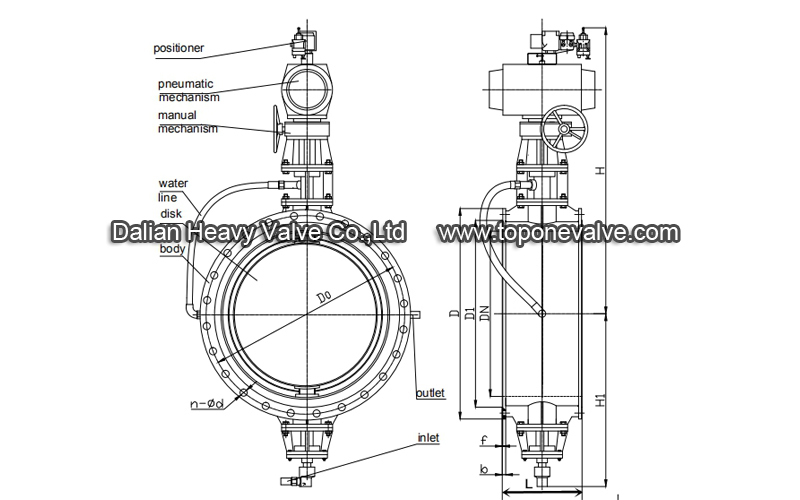 Nominal diameter(mm):DN200~DN3000
Nominal pressure(Mpa):≤0.25MPA
Cooling water pressure:0.2~0.6MPA
Suitable temperature:≤1000℃
Suitable medium: furnace gas, smoke,etc.
Type of sealing : hard sealing.
Type of control : manual ,electric, pneumatic,etc.
Material of main part: carbon steel, stainless steel ,etc.
Standard: GB, BS, ASME, JIS, DIN, EN, ISO and other country, also can be produced according to user's requirements.