Why Choose Us?
★ Fast& Professional Reply.
★ Great Quality!! Quick Delivery Time!! Amazing After-sales Service!!
★ Two Factories; Occupying Area 20000 Sq.m.; Technicist beyond 80.
★ Welcome OEM& ODM.
★ Export more than 60 countries, widely used in power stations, thermal power station, water works, sewage disposal plants, iron and steel companies and other industries.
Application:
These valves are suitable to be used as regulating and stopping equipments on pipelines and containers with such media as all kinds of corrosive and incorrosive gases, liquids, semiliquid and solid powder in those which belong to the pipe system of petroleum and chemical, textile, shipbuilding and metallurgic industries, foodstuff, medicine and paper manufactures. water and electricity, water supply and drainage system.
Features:
It employees excellent quality materials to suit various kinds of media of different temperature and concentration; handy operating and save effort; small dimensions in out-form, light in weight, reliable in seal and long in durability; it can be arranged in various working position.
Structure diagram: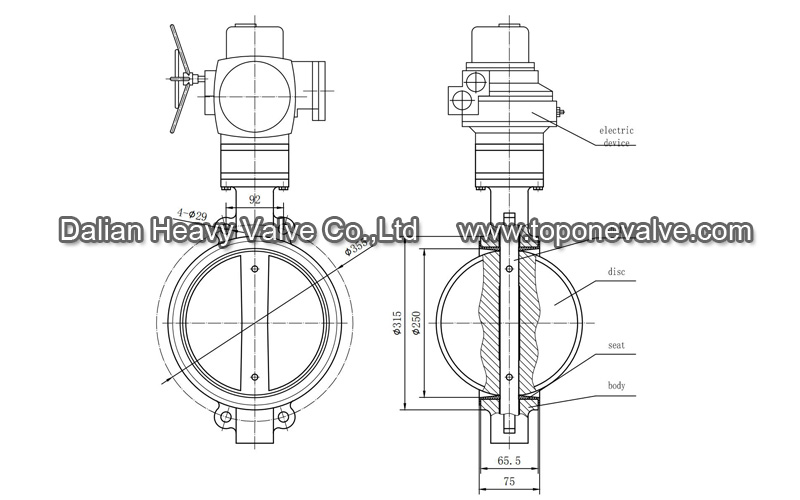 Nominal diameter(mm):DN25~DN2000
Nominal Pressure(Mpa):0.25~2.5MPA
Suitable temperature:≤200℃
Suitable medium :clean water ,foul water,seawater, salt water, vapour, gas, foods, medicine, oil products,various acids& alkalies.
Type of sealing : soft sealing
Type of control : manual, electric, pneumatic, hydraulic, etc.
Material of main part: grey cast iron, ductile cast iron, alloy cast iron, carbon steel, stainless steel, alloy steel.
Standard: GB, BS, ASME, JIS, DIN, EN, ISO and other country, also can be produced according to user's requirements.