Why Choose Us?
★ Fast& Professional Reply.
★ Great Quality!! Quick Delivery Time!! Amazing After-sales Service!!
★ Two Factories; Occupying Area 20000 Sq.m.; Technicist beyond 80.
★ Welcome OEM& ODM.
★ Export more than 60 countries, widely used in power stations, thermal power station, water works, water works, sewage disposal plants, iron and steel companies and other industries.
Application:
This valve as closing equipment will be used for the gas medium pipeline that the temperature not more than 120°, it can not regulate flow rate and exhaust media. This series of valves is not affected by direction of flow media.
Features:
It has the slag hole in the bottom of the it to pollution discharge. And the transmission nut is at the top of the valve which does not contact with the medium and is not affected by the tar accumulation and is flexible. Universal spherical wedge is provided between the gates with perfect sealing performance. It has two types, one is double wedge disk gate valve and another is single wedge disk gate valve. The stem will be lift together with the valve gate. So can directly know if the gate is open or close and the location according to the direction of the stem and location.
Structure diagram: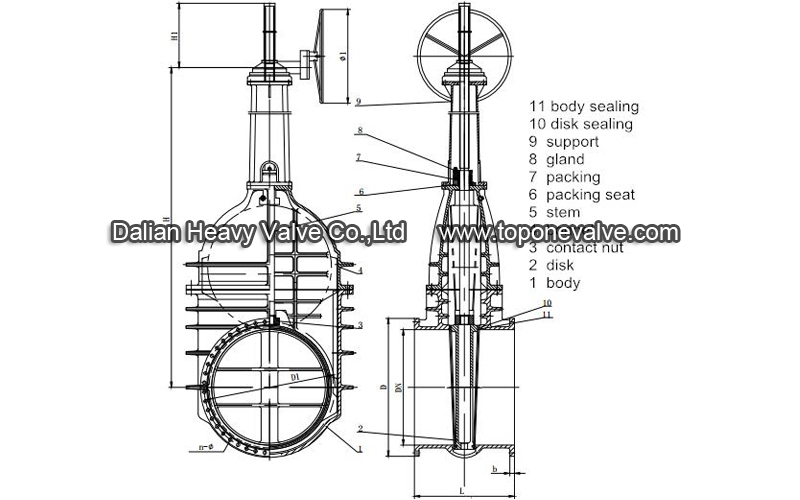 Nominal diameter(mm):DN300~DN3000
Nominal pressure(Mpa):0.05~0.6MPA
Suitable temperature:≤150℃
Suitable medium: gas and other similar.
Type of sealing :soft sealing and hard sealing.
Type of control : manual, electric, etc.
Material:grey cast iron, ductile cast iron, carbon steel.
Standard: GB, BS, ASME, JIS, DIN, EN, ISO and other country, also can be produced according to user's requirements.