Why Choose Us?
★ Fast& Professional Reply.
★ Great Quality!! Quick Delivery Time!! Amazing After-sales Service!!
★ Two Factories; Occupying Area 20000 Sq.m.; Technicist beyond 80.
★ Welcome OEM& ODM.
★ Export more than 60 countries, widely used in power stations, thermal power station, water works, water works, sewage disposal plants, iron and steel companies and other industries.
There are two types of this valve: flip-plate automatic reversal valve and ball type automatic reversal valve.
Application:
This valve is installed in pipeline of concentrating plant, sewage plant, chemical plant and power plant. It can change direction of slurry automatically, so as achieve purposes of automatic open and close.
Features:
After the installation is completed, no manual operation, automatically open or close, save time and effort; it can replace 4 sets of valves, safe and reliable, good economic benefits; Liner wear-resistant rubber, good sealing effect, long service life ;Simple and compact structure, convenient maintenance.
This valve is divided into A port, B and C, A and B port connect with outlet of slurry pump, C port for slurry output, when the slurry pump of A port is working, valve plate automatically close B port, slurry will be discharged from C port. When the technology requires slurry pump of A port to stop working and open B port slurry pump, the valve plate will automatically close A port, slurry will flow into B port and discharge from C port.
Structure diagram: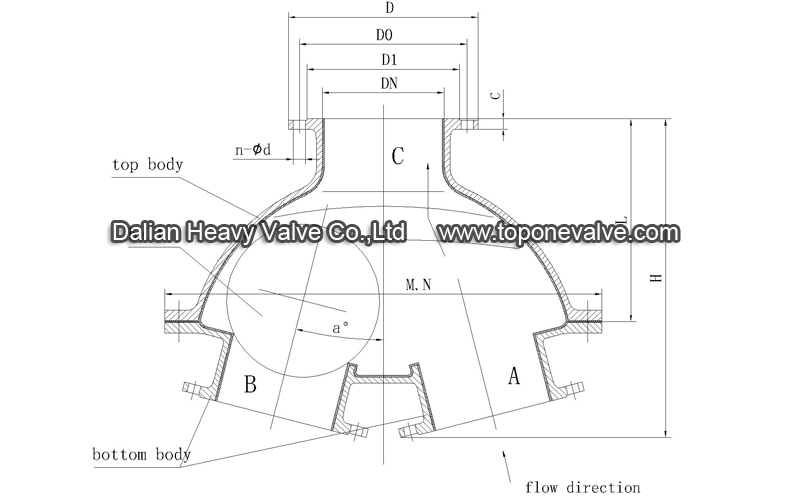 Nominal diameter(mm):DN200~DN1000
Nominal pressure(Mpa):0.1~2.5MPA
Suitable temperature:≤150℃
Suitable medium: slurry.
Type of sealing : soft sealing.
Type of control : automatic.
Material:ductile cast iron, carbon steel ,stainless steel.
Standard: GB, BS, ASME, JIS, DIN, EN, ISO and other country, also can be produced according to user's requirements.