Why Choose Us?
★ Fast& Professional Reply.
★ Great Quality!! Quick Delivery Time!! Amazing After-sales Service!!
★ Two Factories; Occupying Area 20000 Sq.m.; Technicist beyond 80.
★ Welcome OEM& ODM.
★ Export more than 60 countries, widely used in power stations, thermal power station, water works, water works, sewage disposal plants, iron and steel companies and other industries.
Application:
This valve is applicable to the air pipeline and installed in the fan exit, it has a rapid cut off the pipeline to prevent counter current and protect the role of the fan.
Features:
This kind of soft sealing valve, its body and disk is welding construction. It is suitable to be used for gas. Seal ring is soft structure of metal to fluorous rubber. Seal performance is good and rate of leakage is zero. The max using temperature is 200 °.
This kind of hard sealing valve, its seal ring is hard structure of metal to metal. So that it is suitable to be used for higher temperature work condition and working temperature is 350°. The valve is equipped with assistant closing equipment. Disk can be closed by assistant closing device in the later stage for ensuring disk closing.
Schematic diagram: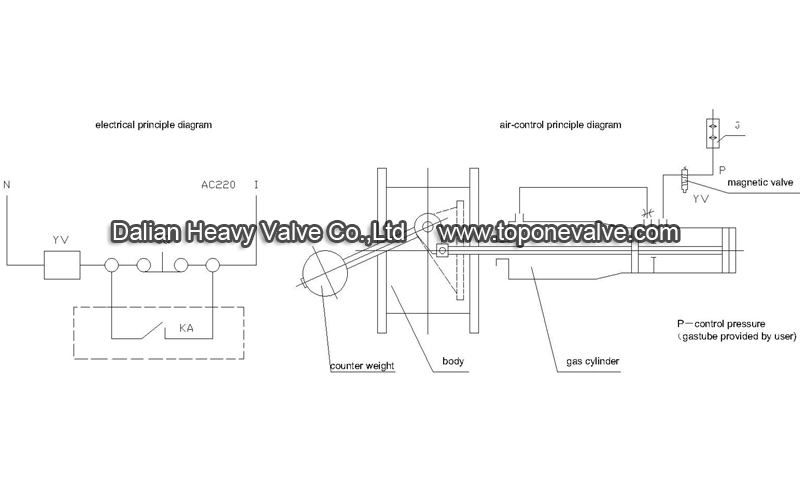 Nominal diameter(mm):DN500~DN2400
Nominal pressure(Mpa):0.1~2.5MPA
Suitable temperature:≤350℃
Suitable medium: gas,air,air with little dust,etc.
Type of sealing : soft sealing and hard sealing.
Type of control : automatic.
Material:carbon steel ,stainless steel, alloy steel.
Standard: GB, BS, ASME, JIS, DIN, EN, ISO and other country, also can be produced according to user's requirements.