Why Choose Us?
★ Fast& Professional Reply.
★ Great Quality!! Quick Delivery Time!! Amazing After-sales Service!!
★ Two Factories; Occupying Area 20000 Sq.m.; Technicist beyond 80.
★ Welcome OEM& ODM.
★ Export more than 60 countries, widely used in power stations, thermal power station, water works, water works, sewage disposal plants, iron and steel companies and other industries.
Application:
The butterfly valve is suitable to be used at the exit of a pump and the medium is water. It is used to prevent or reduce adverse flow and excessively water hammer as both closing and checking equipment so as to protect the piping system.
Features:
The valve are installed behind pumps, one of the valves can replace both a gate (butterfly) valve and a check valve with only 30 percent resistant coefficient of the sum of the two valves. So belong to products of energy economized.
When the valve is closed, the operation of hydraulic actuator is divided into two steps of quick closing from 90 degree to 30 degree and slow closing from 30 degree to 0 degree. Closing time can be regulated according to the working condition in order to prevent larger water hammer.
They can be opened by manual driven.
Structure diagram: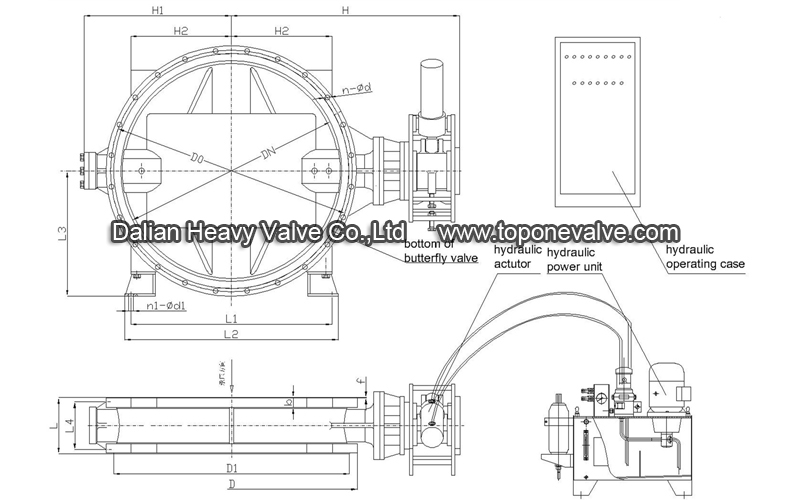 Nominal diameter(mm):DN200~DN5000
Nominal pressure(Mpa):0.1~2.5MPA
Suitable temperature:≤100℃
Suitable medium: Water, sea water, etc.
Type of sealing : soft sealing and hard sealing.
Type of control : hydraulic.
Material:grey cast iron, ductile cast iron, alloy cast iron, carbon steel ,stainless steel, alloy steel.
Standard: GB, BS, ASME, JIS, DIN, EN, ISO and other country, also can be produced according to user's requirements.