Why Choose Us?
★ Fast& Professional Reply.
★ Great Quality!! Quick Delivery Time!! Amazing After-sales Service!!
★ Two Factories; Occupying Area 20000 Sq.m.; Technicist beyond 80.
★ Welcome OEM& ODM.
★Export more than 60 countries, widely used in power stations, thermal power station, water works, water works, sewage disposal plants, iron and steel companies and other industries.
Application:
This valve is used in piping system to control flow pressure and other parameters of medium. It applies to water factory, power plant, chemical industry and soon. To suit to various service conditions. This valve have four types of exit length:
E type used to regulate flow in high pressure difference and enough back-pressure condition, it can reduce cavitation.
F type used as closing valve, for "opening and closing ", pressure loss of full open is lower.
S type suitable to be used as a regulating device in high pressure difference and enough back-pressure service conditions. The regulating characteristic suits to flow state very well.
L type apply to regulating used in high-pressure difference and low back-pressure (reservoir entrance), the regulating characteristic suits to flow state very well, so can reduce cavitation.
Features:
This valve can auto-control pipeline medium parameters value previously given to keep it as constant in a regular precision, and the precision range can be adjusted also;
This valve adopts integrated circuit control system with small occupying space, good reliability, high sensitivity and easy to install and adjust;
High level automation, complete display functions, good disturb-resistance capability;
This kind of valve modulates the flow by the plug that reciprocates in the center line direction of the pipeline to increase or minish the outlet section. There are four types of outlets: E type is suitable to throttle the flow; F type is suitable to open and close; S& L type are suitable to modulation the flow. The motor operation type is suitable to be used as automatic modulation type to modulate the flow in the pipe line.
Structure diagram: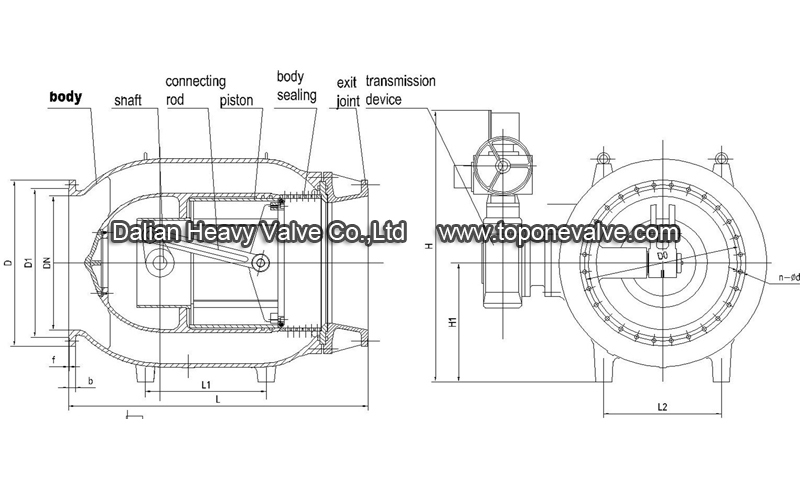 Nominal diameter(mm):DN100~DN2000
Nominal pressure(Mpa):0.6~2.5MPA
Suitable temperature:≤150℃
Suitable medium: Water, sea water, etc.
Type of sealing : soft sealing and hard sealing.
Type of control : manual, electric, hydraulic.
Material:grey cast iron, ductile cast iron, alloy cast iron, carbon steel ,stainless steel.
Standard: GB, BS, ASME, JIS, DIN, EN, ISO and other country, also can be produced according to user's requirements.